Promotional fudges with your print
Available flavors of fudge:
Sharp and saturated label printing
Full color printing possible
Coated label paper
Label dimension: 73 x 79 mm
The amount of candy in 1 kg / approx. 65-66 pcs.
The weight of one fudge is about 15 grams
6 months shelf life
Minimum order 15 kg / about 982 pcs.
Country of origin Poland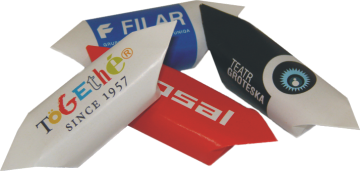 If you need more information about this product or you want to receive a price list in PDF format:
Or send a message from the form below:
Advertising fudges - The longest tradition, delicious taste, natural production process - these are our advertising sweets. Recognition both in Poland and abroad is a confirmation that the proposed advertising candies are of the highest quality. One of the elements that distinguishes our products is the fact that advertising fudge or candies with the logo are hand-packed. In turn, experienced and well-prepared staff guarantees the highest quality and aesthetics. Regardless of the nature of the business meeting, advertising candies are the best and most characteristic form of promoting your company. We especially recommend fudges with the logo, extremely popular in our offer. We assure you that the association between the unique taste of advertising fudge and your company's logo will bring exceptional benefits. Both fudges with the logo and all other products we offer have allowed us to achieve the position of a leader selling advertising candies. Click and read more ...